The Princeton Review:
An Intensive LSAT Prep Course
Score high on the LSAT with The Princeton Review LSAT Prep Course, an intensive classroom-based experience for high achieving students.
Disclosure: At LSAT Clarity we value transparency above all else. If you click on an affiliate link on our site and then make a purchase, we may get a small cut of the revenue from the sale – at no extra cost to you.
Our #1 Rated LSAT Prep Course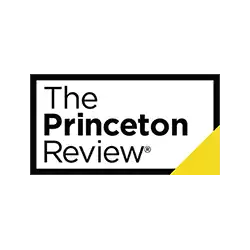 The Princeton Review LSAT Prep can help you pass the LSAT and get admitted into a top law school. It's one of the best LSAT prep courses out there.
They cater to students who are ambitious about getting a high score on the LSAT, making it a great choice for high achievers.

The Princeton LSAT Review's programs offer in-person or online instruction. You will get access to several official practice exams, with a huge number of real LSAT questions and logic games to prepare you for the test.

Plus, it has textbooks, homework assignments, and the option to pay for individual tutoring. All of these resources are highly effective at increasing the skills you need to excel on the exam.

This article explains everything about The Princeton Review for LSAT and offers insight into the benefits and features it provides.
The Princeton Review LSAT Pros & Cons
There are several pros and a few cons to The Princeton LSAT program:
Pros for The Princeton Review LSAT Prep
In-person classes can be great, but some are large, which diminishes the benefit of one-on-one attention or getting realtime answers to your questions.

They give you a few options. You can enroll in a semi-private course, which will limit the class size to four students. This means that you can move faster and get more facetime with your instructor.
---
Access to instructors
Any course you buy from them, includes communication outside of class with your instructor. You can ask questions and get feedback in-person, over the phone, or by email. This is included in every class and doesn't cost extra.
---
Comprehensive study materials
Princeton LSAT Review includes hundreds of hours or recorded and live materials. You can watch videos, play online logic games, read textbooks, and practice thousands of LSAT test questions. They also provide between four and six complete LSAT practice tests. This extensive material could fast-track your test-readiness.
---
Multiple Guarantees Offered
They're known for the claim that their students outperform people in other test prep courses.
For their LSAT 165 course, they guarantee that score on the LSAT. Their students regularly place in the top 25 law schools.
If you do poorly and can document that you followed their system, you should be able to get your money back.
---
Unique Personalization
For an upgrade, Princeton LSAT Review gives several options for personalization.
You can pay for one-on-one tutoring for up to 24 hours. With a tutoring package, an app can be customized for your study plan. For the higher-level plans, you also get extensive reporting after a proctored practice test, which can give you insight into weak areas.
---
Traditional Online Class Style
If you like a traditional class, this is a pro of the Princeton LSAT Review.
Taught by qualified instructors, a classic lecture and discussion can be a great fit for people who learn this way. Their in-person and online courses are both structured like this.
Uses Real LSAT Questions
It's vital that any test prep you use has real LSAT questions.

The LSAT isn't like any exam you will have taken before. You need to get familiar with the logic games and other challenges you'll be faced with.

Princeton LSAT Review will give you an enormous test bank (8,000+) to master the style and pacing.
Instructors Have Performed Well on the LSAT Exam
Princeton LSAT Review has high standards for their instructors. You can choose tutors based on how well they scored on the LSAT exam.
Cons for The Princeton Review LSAT Prep
If you want to study on the go, you may be out of luck. They don't have an app that includes all of their study materials.
---
Limited Free or Additional Resources
You can try a class for free, but that is pretty much the only free resource you get. Everything else, you have to pay for.
---
Not Fully Updated for the Digital LSAT or Latest Exams
Since July 2019, the LSAT has been converting to a 100% digital test.
Princeton LSAT Review is still in the process of updating all of their materials to help students practice for that digital test.
Our Recommendation :
Best In-Person & Best for Quality of Material
If you're looking for an online or in-person classroom-based LSAT prep experience, The Princeton Review LSAT Course is a top notch choice. They also offer a one-on-one tutoring program for some extra guidance.
Who is this Course Best For?
Princeton LSAT Review will appeal to many different kinds of students. This may be the right choice for you if you:

The Princeton Review LSAT Course Format
You can use their materials to study for the LSAT either in-person or online. They have a variety of digital and textbook materials as well as real LSAT examples that can help you prepare. Here is an overview of what the course offers:

Important Course Format Features
The Princeton Review LSAT Pricing
You can purchase five different versions of LSAT prep materials from The Princeton Review. Here's what you'll pay for and get with The Princeton Review LSAT packages.
| | self-paced course | fundamentals course | lsat 165 course | IMmersion 165+ | private tutoring program |
| --- | --- | --- | --- | --- | --- |
| Over 150 hrs of video instruction | | | | | |
| | | | | | |
| Six full-length diagnostic practice tests | | | | | |
| | | | | | |
| 120 DAYS OF ACCESS TO ONLINE CONTENT | | | | | |
| | | | | | |
| over 1,800 pages of study materials | | | | | |
| exclusive print materials | | | | | |
| access to all released lsat questions | | | | | |
| | | | | | |
| review all concepts and strategies | | | | | |
| available in person or online | | | | | |
| 30 hours of in-class preparation with an instructor | | | | | |
| 84 hours of in-class preparation with an instructor | | | | | |
| online lessons and drills | | | | | |
| four proctored practice tests | | | | | |
| six full length practice tests | | | | | |
| online practice test score and reports | | | | | |
| | | | | | |
| over 8,000 lsat exam questions | | | | | |
| | | | | | |
| Cell | | | | | |
The Princeton Review LSAT Discounts
There are a few ways to cut costs with the Princeton LSAT Review.
One way to save money is to enroll in a sample class where you try the product out for free. This will help you get a feel for the classroom style and materials before you put any money down. If it's not right for you, you won't have spent the money on it.

On their website, The Princeton Review regularly offers discount codes to provide some financial aid to students. Most commonly, these will apply to the LSAT 165 course, which is the course they sell the most.
$300 OFF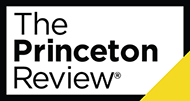 Get $300 OFF The Princeton LSAT 165+
The LSAT® 165+ gives Maximum Results with Minimal Time. Get it at a discount price now!
The LSAT® 165+ gives Maximum Results with Minimal Time. Get it at a discount price now!
Show Less
Is The Princeton Review LSAT Course Worth It?
The Princeton Review is known for its quality study materials. They provide test prepreparation courses for many different professional tests, not only the LSAT.

Their LSAT Review course has a track record of success, getting many students high scores and into great law schools.

If you want a broad range of offerings, personalized attention and don't mind that there isn't as much mobile integration, this may be the right choice for you.

Frequently Asked Questions
Here are some common questions that people have about Princeton Review LSAT.
Is Princeton Review Good for LSAT?
Princeton Review is our #1 rated LSAT test preparation course. It is known for getting you a higher score and even has a 165 guarantee for one of its packages. You can also purchase private tutoring. Basically, you get a broad range of materials.

It is priced moderately, compared to other courses. Princeton courses are nearly half the price of the cheapest PowerScore course. It helps hundreds of students pass the LSAT each year.
Is The Princeton Review Online Course Good?
The Princeton Review offers online courses to prepare you for the LSAT. These include video content, logic games, homework assignments and real practice tests that many students have used with great success. They offer a comprehensive course of study to prepare you for the LSAT.
What is the Best LSAT Prep Course?
There are a lot of different LSAT prep courses to choose from.
Depending on how you like to study, what your study timeline is, and how much you can afford to invest, you might choose The Princeton Review. This is a good option if you want to learn in-person in a classroom and have access to private tutoring.
Visit our Kaplan vs Princeton Review LSAT course comparison to see how it stacks against the competition.
How Can Improve My LSAT by 10 Points?
A great LSAT study program will help you score higher. Some programs, like The Princeton Review, offer a score increase guarantee.
Go here to learn more.
Where Can I Take The Princeton Review's In-Person Courses?
The Princeton Review offers in-person classes. You can go here for a locator and scheduling information for Princeton Review courses near you.
How Effective is the LSAT Score Increase?
Programs like The Princeton Review offer a "165" score guarantee, which means that if you study with them, you can expect to get a high score on the LSAT. Companies like Princeton say that their study courses are so effective that you can expect to get into a top 25 law school.

Students who record their scores with The Princeton Review have a median score of 163.
What is the First LSAT Princeton Review Schedule?
There are advantages and disadvantages to when you schedule your LSAT. You can take it four times a year. Princeton Review has recommendations for exam scheduling based on your study plans.
Which is better: Kaplan LSAT, or The Princeton Review LSAT Prep?
There are many different LSAT review courses, and the best one depends on your learning style and goals. The Princeton Review caters to high achievers who aim to get a competitive score on the test. Kaplan offers a well-rounded program with a wide variety of course materials.
How Many Practice Tests Come With The Princeton Review LSAT Tutoring?
Depending on which program you buy, you may get between four and six official LSAT practice tests. These include questions from previous years of the LSAT.
For more expensive or comprehensive versions of The Princeton Review, you will have these exams proctored and get extensive reporting on how you scored.
How do The Princeton Review LSAT Prep Classes Work?
The Princeton Review offers online or in-person classes. You register for these and attend, either virtually or by traveling to the classroom.

Highly experienced instructors will provide real-time teaching in a classroom-style session. You can ask questions and interact with the instructors. You will also get homework assignments, proctored tests and support as you study for the LSAT.
Improve Your LSAT Score, Guaranteed!
The Princeton Review LSAT Course, an excellent choice for ambitious students aiming for top law schools.