So, you passed the LSAT and got into law school. First of all, congratulations! Your next step? Update your tech.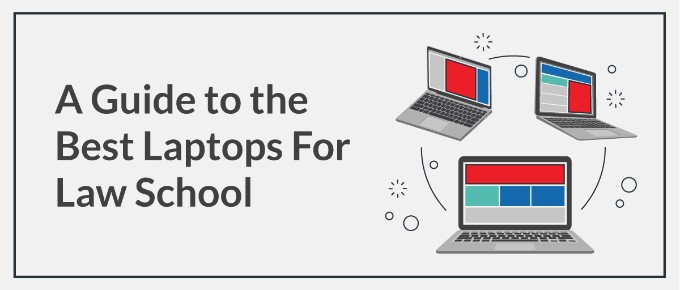 Investing in the best laptop for law school can help you stay prepared for the challenges and successes that this next step in your education will bring.
No one's heading into their Civil Procedures lecture with a pen and paper. When you go to law school, you are going to use a laptop to take copious notes, jot down all of your philosophical musings, and otherwise prepare for an esteemed career.
The tools you use matter. In order to feel confident that you are getting the best laptop for law school, read on.
Originally published on March 19th, 2021, this article was updated, fact-checked, and republished on July 14th, 2022.
What Laptop Should I Buy For Law School?
Now, before you head out and get a heavy computing machine, remember what you'll be using the laptop for.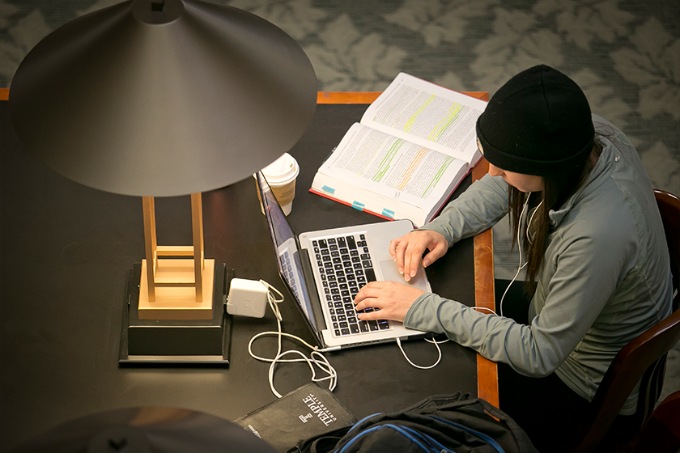 In law school, the basic functions your laptop will need to include is internet connection and some kind of word processor. You will also probably need to open PDFs, use file-sharing, and save a lot of text documents.
This does not mean you need fancy graphics cards or lightning-speed systems. Though, you will want something that is reliable, has a big enough screen to read on, and feels comfortable for extended use writing papers or watching online lectures.
To add to your convenience, the ideal laptop would be light enough to lug around campus, into coffee shops, and to the library.
Here is more detail on the specific laptop features you need for it to be great for law school.
1. Battery Life
Unless you're going to be "that person" who snags the wall seat with the outlet every class, you need a laptop with a good battery life. Law school can be stressful enough, so it is important to lessen your stress where you can and not have to worry about if your laptop will stay charged throughout the day.
While you can buy additional batteries, you have to completely power down to swap them out. Plus, some laptops require screwdrivers or other tools to get the battery casing off. In the case of Apple, you may not be able to switch the battery yourself at all.
Considering those scenarios, it is a convincing case for a battery that lasts longer than two hours. Ideally, you get one that can last you through multiple classes, or until you have a long enough break to charge it up.
2. Weight
We were serious about lugging your laptop around. Think about this carefully. Laptops typically range from two to eight pounds. Often, the laptop with the biggest screen and beefiest battery will also be the heaviest.
While eight pounds may not seem extreme, keep in mind that you'll be throwing this in a bag with chunky textbooks. You don't want to be schlepping 20 pounds on your shoulder all day every day.
Also, consider the added poundage of cases and other gear you may need for your laptop. To increase your mobility and convenience, it is best to choose a laptop of moderate weight.
3. Ram and Storage
Back it up. Back it on up. Every law student's worst nightmare is losing an unsaved document. As you write very long, analytical, and time-consuming papers, you must have enough internal storage.
Even if you are backing up to the cloud, you should also plan to have docs saved in real time on your hard drive. This means that you will need enough ram and storage to handle your important assignments.
If all you are saving is text docs, you may think almost any laptop has that capacity. However, remember that you'll likely give a lot of presentations in law schools. These may include PowerPoints with fancy graphics or animations, which eat up your hard drive space fast.
It is best to err on the side of liberal memory.
4. Display Quality
Might as well just rip the bandaid off now: you're going to spend a lot of law school hours staring at a screen. In many cases, that screen will be your laptop. As such, you will want to look at high-res images that are easy on the eyes.
The best laptops for law school will have a screen that is not only big enough for reading, but also has crystal clear graphics. You should definitely get an HD quality screen, but may even want to consider upgrading to 4K if it is possible without spending too much extra.
5. Processing Power
Hertz so good, especially when your classes and tests depend on it. Processor speed is measured in gigahertz, or GHz. This measurement determines your laptop's speed. A good GHz for a laptop is somewhere between 3.5–4.2. This number will be on the product info, and it should be pretty easy to compare laptops for this measurement.
You don't want to be sitting around waiting for a test to load or a downloaded video lecture to buffer. The idea is that the laptop makes your life easier. Enough processing power is important to ensure ease and less stress.
Law School Laptop System Requirements
There are some bare minimum system requirements that your law school laptop should have. The main focus is on memory/storage capacity and processor speed.
Even if you aren't a techie, these are pretty easy to find on the product description or on the box if you're shopping in person. Also, the salesperson at any electronics store will know what these mean if you need an extra set of eyes in your search.
To make your laptop shopping easy and ensure your laptop meets the quality you need to succeed, the table below lists the minimum requirements you should be looking for.
However, the recommended requirements will ensure the speed and functionality that is ideal for the best laptop for law school.
Minimum System Requirements

Recommended System Requirements

CPU

Intel Core i3 or AMD Ryzen 3 or above

Intel Core i7

RAM

8GB DDR4

16GB DDR4

Storage

256GB SSD

512GB SSD

Display

At least 13.3-inch

No more than a 15-inch FHD IPS as you will be carrying it a lot

GPU

Any Integrated Intel Graphics would be enough

2GB NVIDIA GeForce GTX 1050

Battery

Up to 4 hours

Up to 12 hours

OS

MS Windows 10 or any Apple OS higher than version 10.13
Now that you know the basics about minimum and recommended requirements for your law school laptop, let's dive into the top-rated options. If you buy any of these options, you'll know that you are setting yourself up for success and ease.
Top 5 Best Laptops For Law Students
Here are the top 5 best laptops for law students, ranked by specific criteria. These will all include some Amazon links, so you can check them out yourself.
You'll see some of the product features here, but click on the link to see more details.
Best Overall – Microsoft Surface
The best overall law school laptop is the Microsoft Surface.
This is one of the most popular touch-screen laptops. It has a kickstand and an adaptable keyboard for easy conversion to a tablet. While it can function like a tablet, it still has all the perks and power of a quality laptop.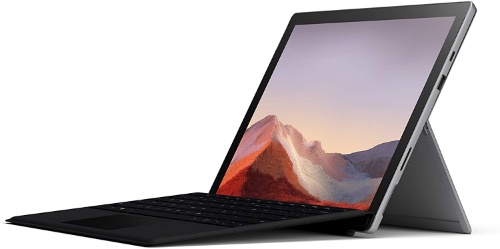 It's a great, versatile unit with plenty of easy-access ports. Plus, it has a super lightweight design that is perfect for carrying around without compromising on functionality.
In addition to being sleek, light, and easy to use, the Microsoft Surface has scalable memory options (8GB Ram/128 GB to 16 GB Ram/512 GB). It can be used with a stylus, in case you like to handwrite notes, or with any kind of attachable keyboard.
You can hook up a mouse, use the touchscreen, or use a touchpad on an attached keyboard. It has tons of integrations to connect display systems, allows accessory charging, and is even equipped with Bluetooth 5.0.
12.3 inch screen
Made by Microsoft
Up to 128 GB memory
12.8×2.68×9.21" screen
Pros
There are a ton of pros to this overall best laptop. The Microsoft Surface has an Intel chipset and an average battery life of 10.5 hours. The screen resolution is 2736×1824. It operates on a PC and uses Windows 10 Home.
There is a front and rear webcam, perfect for remote classes. It also comes in a couple of muted colors. Also, it weighs just over one pound. Because it is Microsoft, it comes ready to activate Microsoft 365 and other Microsoft Office products, which many law school professors often use.
Cons
That last pro could also be a con. Because so many people use iPhones, a Microsoft laptop may feel like uncharted territory. If you've used Macs in the past, it will take some getting used to. Though, it's a pretty intuitive interface and easy to learn system.
Best Overall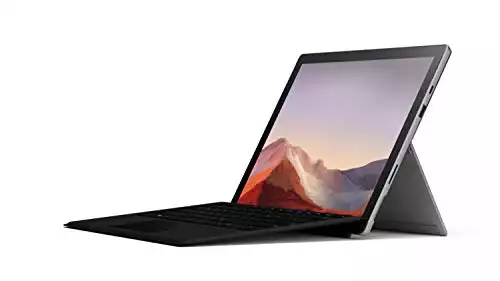 Microsoft Surface Pro 7
Microsoft Surface Pro 7 - 12.3" Touch-Screen - 10th Gen Intel Core i5 - 8GB Memory - 128GB SSD (Latest Model) – Platinum with Black Type Cover
Check Price on Amazon
If you click on this link, we will earn a small commission at no extra cost to you.
Most Budget Friendly – Acer Swift 3
The most budget friendly laptop is the Acer Swift 3. Let's face it, law school is expensive. If you're looking to pinch pennies without cutting corners, this laptop may be the right buy for you.
It has a large screen (14") and all of the basic functions you need in a notebook laptop. The Acer laptop runs Windows 10 Home and has 8GB of computer memory. It's highly functional and ready to facilitate your studies.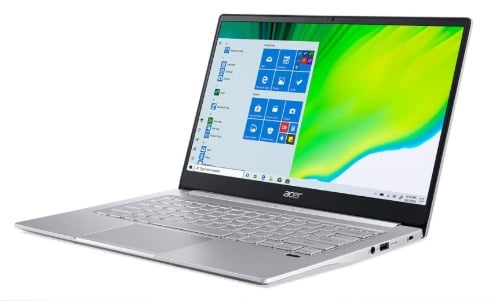 The Acer Swift 3 can be bought on its own or with an external USB dock. Having all of the ports is a huge plus for any laptop. It has a backlit keyboard (a convenient feature for dimly lit classrooms) and a fingerprint reader for privacy and security. You can plug in external devices and displays with the handy USB ports and HDMI port.
14 inch screen
Made by Acer
Up to 8 GB memory
0.63" thin screen
Pros
The Acer Swift 3 is described as being "thin and light," and it lives up to this description. In addition to a slim screen, it only weighs 2.65 pounds. It has up to 11.5 hours of battery power, which will come in handy during marathon study sessions. The large screen has a 1920×1080 resolution, there is an HD webcam. It comes in a shiny, stylish silver.
Cons
While this laptop has a possible ("up to") battery life of 11.5 hours, product specifications indicate that it averages five hours. Also, you cannot add memory to this laptop. People also report that the webcam and speakers are not the best quality.
Most Budget Friendly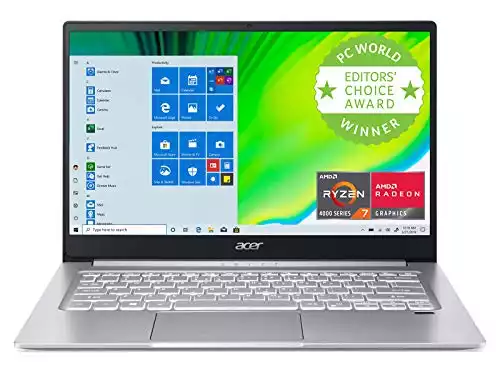 Acer Swift 3
Acer Swift 3 - Thin & Light Laptop, 14" Full HD IPS, AMD Ryzen 7 4700U Octa-Core with Radeon Graphics, 8GB LPDDR4, 512GB NVMe SSD, Wi-Fi 6, Backlit KB, Fingerprint Reader, Alexa Built-in, SF314-42-R9YN
Check Price on Amazon
If you click on this link, we will earn a small commission at no extra cost to you.
Best Battery Life – LG Gram Laptop
It's all about that power. If you want a marathon lasting laptop battery, the LG Gram is the way to go. This laptop is not messing around. Its battery can last up to 21 hours. That is enough to get you through a few classes, a teacher meeting, group study session, and late-hour library time.
It would be pretty awesome to not have to plug in your laptop through a whole day of law school. This is one of the only laptops on the market that could offer that convenience.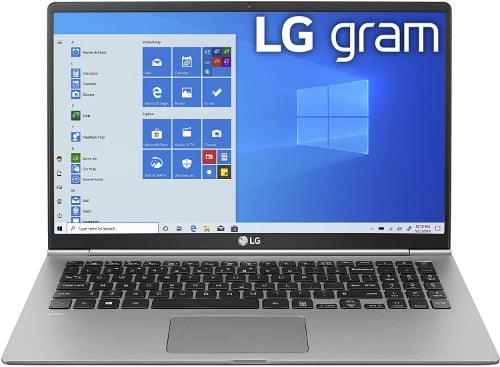 The LG Gram laptop is renowned for being a high-powered, long-lasting machine. It has a big screen, moderate internal storage, and runs on Windows 10 Home. This laptop has Intel HD graphics, a backlit keyboard, and 3D audio rendering for high-quality sound.
Some people even use this laptop for gaming and streaming, because it has the 10th Gen Intel CPU, which means great processing.
15.6 inch screen
Made by LG
Up to 8 GB memory
Intel chip
Pros
The LG Gram laptop is a high-powered PC that lasts all day and all night. It has a screen resolution for 1920×1080 (standard). It is also highly praised for audio and graphics. The laptop only weighs 2.4 pounds and has not one, but two, Lithium ion batteries.
Cons
Even though this laptop seems like the total package, it still has pretty limited internal memory. It's also a little pricier than comparable options. Even if you get what you pay for, you may not want to pay quite that much.
Best Battery Power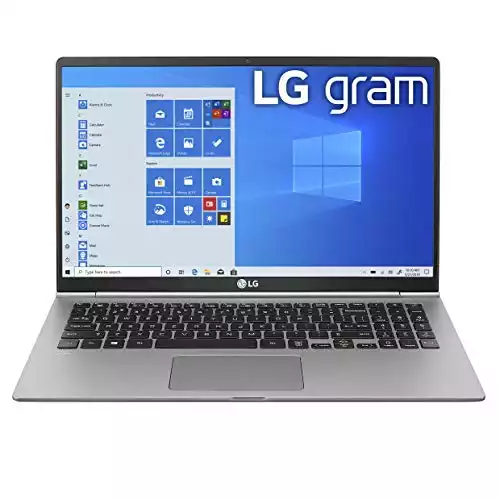 LG Gram Laptop
LG Gram Laptop - 15.6" Full HD IPS, Intel 10th Gen Core i5 (10210U CPU), 8GB DDR4 2666MHz RAM, 512GB NVMeTM SSD, Up to 21 Hours Battery, Intel UHD Graphics - 15Z995-U.ARS6U1 (2020)
Check Price on Amazon
If you click on this link, we will earn a small commission at no extra cost to you.
Best Value For Money – Lenovo Yoga
If you're a savvy shopper, you love the idea of getting the most bang for your buck. The Lenovo Yoga may be just what you're looking for. Like the Surface, this is a touch screen laptop with a generous sized screen and a hefty helping of RAM.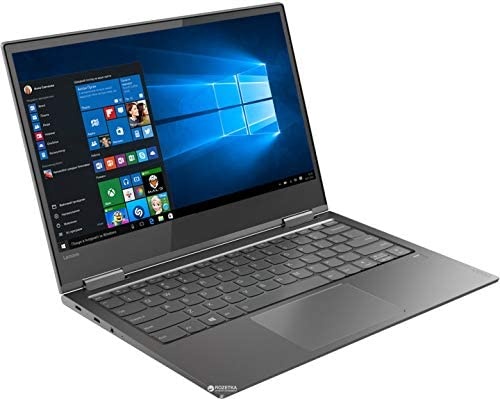 While it is a little pricey, it could be the best machine to get you through all your years of law school and more. It runs on Windows 10, is made by a reputable manufacturer, and has plenty of bonuses to sweeten the deal.
The Lenovo Yoga is a high-end laptop with a built-in keyboard and touchpad. It also works like a touchscreen, so you can personalize the experience. There is 16 GB of internal RAM, which is ample for all of your important docs and files.
It runs on Windows 10 Home. The screen is a gorgeous 4K and there is 2GB of dedicated graphics storage. It has a fingerprint reader, stellar processor, and is basically a finely tuned instrument.
15.6 inch screen
Made by Lenovo
Up to 16 GB memory
512 GB hard drive
Pros
There are plenty of pros to the Lenovo Yoga. It has a sophisticated graphics coprocessor, a giant hard disk, internal storage and four processors. The screen resolution is a whopping 3840×2160. This laptop also has a battery life of over 11 hours. While being pricey, these features make it worth your investment due to these quality features.
Cons
Perhaps the only con to this high-end laptop is that it weighs 4.17 pounds. Between the weight and the huge screen size, you may want to consider a special laptop bag and to download some of your textbooks in digital format to minimize the extra weight.
Best Value for Money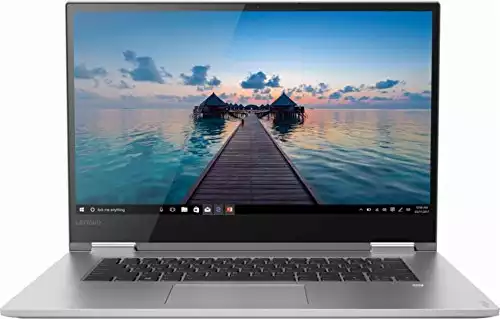 Lenovo Yoga 730 2-in-1
Lenovo Yoga 730 2-in-1 Laptop: Core i7-8550U, 15.6" 4K UHD Touchscreen, 16GB RAM, 512GB SSD, NVidia GTX 1050 Graphics
Check Price on Amazon
If you click on this link, we will earn a small commission at no extra cost to you.
Easiest to Carry – ASUS UX333FA-AB77 ZenBook
If one of your primary goals is a laptop that performs as needed and is super easy to use on-the-go, this is the laptop for you. The easiest to carry laptop is the ASUS UX333FA-AB77 ZenBook.This is another high-end laptop with all of the ease of use you can possibly imagine.
It runs on Windows 10 Pro, has military grade TPM, a great processor, lots of RAM, and is "ultra slim." This uniquely designed NanoEdge display is fully HD but has razor thin bezels.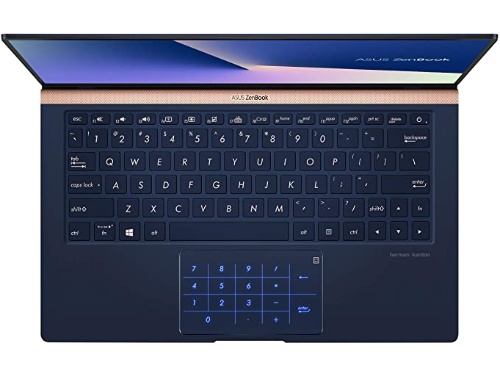 This feature gives you more screen view in less physical space, for an immersive graphics experience. It's not only super thin, but it also only weighs 2.6 pounds and has a unique metallic finish.
The ASUS ZenBook has a one-tap login on the touchpad, which gives you quick entry with total security. The keyboard is designed with ergonomics in mind, and has an auto-tilt feature for custom typing positions. This is a reliable and durable laptop that will make studying in motion no problem at all.
13.3 inch screen
Made by ASUS
Up to 16 GB memory
8th Gen Intel Core i7
Pros
The pros of this laptop are that it's fast, it has plenty of storage, and is easy to use. It can use professional grade software and comes with an ASUS protection warranty for one year. All of the relevant USB/HDMI ports are available for integrations and presentations. The extended battery life should power it through your entire day.
Cons
The biggest con for the ASUS ZenBook is price. It is the most expensive laptop on this list. However, if you want something that's going to last and give you the best experience possible, this may be worth the price tag.
Best Laptop For Law School
From the minute you get into the best law school, you'll want to be totally prepared to crush it. Finding the best laptop for law school is a really important decision that will set you up to succeed with ease.
More than any other device, your laptop is going to be what you use to do the heavy lifting of taking notes and writing papers. If any of your coursework or lectures are virtual, the laptop you purchase is even more important.
Do a little research before buying so that you can be confident that you have found the best laptop for law school.