For many people choosing a postgraduate path, the LSAT vs GMAT question is a big one. It's not just a matter of deciding whether you want a law degree or an MBA, it's your entire career trajectory at stake.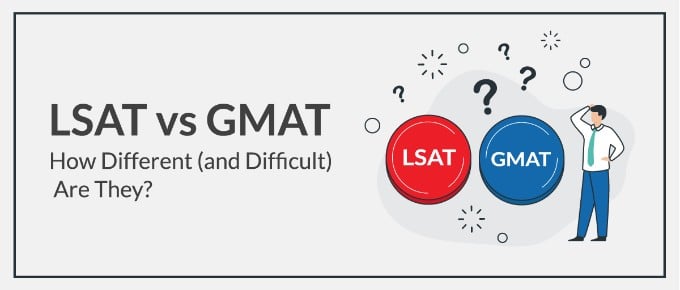 These tests are the first challenge, and knowing what each one covers can tell you a lot about the demands of the program and career you decide to pursue. While there is some overlap, they each pose unique challenges and require focused study.
The LSAT is required for law school admission, while the GMAT is required for Master of Business Administration (MBA) programs. How you perform on each test determines if you will be accepted into the best law schools or MBA programs. These programs are competitive, so you need to be ready to do well.
If you're looking to further your education in law or business, it is important to know how different the LSAT and GMAT tests are. Read on for an in-depth comparison of the difficulty, format, and career opportunities, so you can choose your best path forward.
Originally published on March 19th, 2019, this article was updated, fact-checked, and republished on September 21th, 2022.
LSAT or GMAT?
Law and business both provide excellent career options. If you are smart and have a definite interest in complex topics, either of these could be the right track for you.
That said, they are not the same and represent different specific career interests and professional skills.
What Is LSAT?
If you want to go to law school, you must complete the LSAT. The LSAT is administered by the Law School Admission Council. It is a multiple-choice exam that is given in two parts. You will be required to answer questions and write an essay.
The LSAT has five sections that cover the following three subject areas:
Logical Reasoning. This subject tests your ability to analyze a writing passage and critique arguments.
Analytical Reasoning. Also known as logic games, this subject tests your ability to determine outcomes by applying logic strategy.
Reading Comprehension. Rather than testing your ability to understand a passage, this subject also expects you to find meaning and draw conclusions from the information you are given.
There are between 99 and 102 multiple choice questions on the LSAT. LSAT scores range from 120 to 180. Though, many top-tier law schools look for scores of 170 or higher.
To take the LSAT, you will schedule your in-person test online or take the LSAT-Flex, an online, remotely proctored version. The test takes three and a half hours.
People who want to pass the LSAT spend several months studying. This often means using LSAT review courses, and applying test-taking LSAT tips to achieve that high score.
What Is GMAT?
If you want to get into a postgraduate business school program, you will want to pass the GMAT. It is designed for people who have finished a bachelor's degree and are ready to pursue a Masters of Business Administration.
The GMAT is administered by the Graduate Management Admission Council. The test is accepted in over 7,000 programs around the world and offered at over 600 testing locations annually.
The GMAT has four sections:
Analytical Writing Assessment. This section tests your critical thought process and your ability to express your conclusions.
Integrated Reasoning. Information and data will be presented to you in multiple formats. It is up to you to analyze it.
Quantitative Reasoning. Similarly to integrated reasoning, you will have to analyze data. However, this section tests your ability to draw conclusions from your analysis.
Verbal Reasoning. This section will require you to evaluate written material, correcting the arguments presented through passages.
There are about 80 questions on the GMAT. Scores range from 200 to 800, with an average score being between 400 and 600. The best MBA programs look for scores in the 700 range.
The GMAT is a computer adaptive test given at testing centers around the country. There is also a GMAT Online Exam that can be taken remotely. The test takes about three-and-a-half hours to complete.
People who want to pass the GMAT must dedicate months of hard work to prepare. The content on the test can be difficult and require not only understanding of business concepts, but the ability to apply them.
What They Are Used For
The LSAT and the GMAT are, arguably, two of the most challenging entrance exams in the world. They are meant to be hard, providing a barrier of entry into elite academic programs that lead to top-level jobs. Even being eligible to take these exams may take a few initial steps.
Why Take the LSAT (And What's Required)?
The LSAT is required to get into any law school, but it has requirements itself. Here are the eligibility requirements for the LSAT:
You must be a fluent English speaker (reading and writing).
You must have a valid ID.
Pay a $200 fee.
To actually use your LSAT scores to get into law school, you will also need to supply proof of an undergraduate degree from an accredited university and pay the LSAC for your law school application packet, the Credential Assembly Service (CAS).
For people who want to pursue law, the most common undergraduate degrees that lead to careers in law are:
History
Business
Political Science
Philosophy
Economics
Business
There are also degrees of legal support, paralegal studies, and other programs that fall into the "pre-law" category.
While there are many academic backgrounds that could lead someone towards pursuing law postgraduate, there are also a few different types of law schools. For instance, some law schools are well-known for specific areas of law, such as:
International law
Health law
Environmental law
Criminal law
Constitution law
Intellectual property law
Amendment law
…the list goes on. Most people research specific programs even while they're studying for the LSAT, shortlisting the top law schools that fit their interest.
Possible Careers After Taking the LSAT
The LSAT gets you into law school. After that, presumably, you complete your course of study and take the bar exam. Administered by the American Bar Association (ABA), candidates must have the right credentials and pass a rigorous exam in their state.
Only then do you become a full-fledged lawyer, capable of hanging up your shingle in private practice, joining an existing practice, or carving out your niche in the legal world.
As a lawyer, you may work in any of the four branches of law, which are:
Criminal law
Civil law
Common law
Statutory law
Lawyer careers include:
Mediator
Litigator
Prosecutor
Corporate lawyers
Trial attorneys
Medical lawyers
Intellectual property attorneys
Though, post-law school careers are not limited to the jobs in this list. Some lawyers go on to teach law, become judges, or join the political sphere.
Why Take the GMAT (And What's Required)?
The GMAT is required to get into any MBA program. The requirements to take the GMAT are:
You must be 13 years or older.
A valid photo ID.
Pay a $250 fee.
Your GMAT score will be part of your MBA application. An MBA can provide broad business understanding and qualify you to work in many corporate contexts. Most commonly, people who want to get an MBA pursue these types of undergraduate degrees:
Business
Economics
Engineering
Mathematics
Technology
Science
If you have a specific career goal in mind, you may pursue the following in-demand MBA specializations:
MBA in General Management
MBA in International Management
MBA in Consulting
MBA in Finance
MBA in Strategy
MBA in Entrepreneurship
MBA in Technology Management
MBA in IT
MBA in Marketing
MBA in Operations Management
Any of these specific programs will give future employers greater insight into your knowledge and skills. They may also uniquely qualify you to work in a specific industry or role.
To achieve your goals of becoming an MBA, you may be able to find flexible MBA programs. For instance, if you are already a working professional or have other obligations, you can take the GMAT and go into an MBA program that offers part-time course work or night courses.
Possible Careers After Taking the GMAT
Once you've taken the GMAT and have completed your academic program, you will have earned your MBA. Unlike law school graduates, there is no additional examination or credentialing required. Upon graduation, you will officially put those three letters at the end of your name.
For many people, MBAs open a ton of career paths. That's because this expertise is highly sought-after. Here are some examples of MBA jobs:
Finance – Financial Analysts, Financial Advisors, Investment Bankers, Investment Fund Executives
Management – Marketing Managers, Business Operation Managers, IS Managers
Consulting – Management Analysts, Marketing Managers, Business Operations Consultants, Information Technology Directors, Operation Research Analysts and all C-level positions
You'll note what these jobs have in common: leadership. MBAs are uniquely suited to provide strategic business direction for a company. Because of that, they are often c-suite executives who lead the pack.
LSAT vs GMAT: Study Material
Whether you want to be a titan of industry or a master of the courtroom, your journey begins with one of these tests. It is a rigorous, unyielding journey. Both tests are complex and designed to accurately assess your intelligence and critical thinking skills.
In either test, you won't just be asked questions and recite answers. You will solve puzzles, untangle riddles, make arguments, and use logic. Neither test is an easy feat. That being said, you will need to prepare.
GMAT Study Materials
GMAT study materials will typically be found through online courses that include the following:
Instructor led videos — either recorded or live streamed
Lessons and quizzes
GMAT textbooks
GMAT practice tests
A customized GMAT study schedule
Sometimes, online GMAT courses will also include audio materials, flashcards, and options to hire a GMAT tutor.
Some of the most popular GMAT courses are provided by:
Princeton GMAT Review
Veritas Prep
Kaplan GMAT Review
Manhattan Prep GMAT Review
Veritas GMAT Review
Target Test Prep for GMAT
Magoosh GMAT Review
LSAT Study Materials
LSAT study materials can be found through online courses, although there are also options for in-person classes.
Any of the best LSAT prep courses that you buy will likely include:
Expert LSAT instruction in person, recorded video lectures, or live stream options
LSAT prep books, typically one for each section of the LSAT
LSAT practice tests and test question banks
LSAT tutoring is also a very popular option and can often be purchased as an upgrade to the LSAT review course you buy online.
LSAT vs GMAT: Exam Format
The GMAT has four sections and takes three-and-a-half hours. There are four LSAT sections, though it takes two-and-a-half hours.
While you may be attempting to compare the two, an LSAT to GMAT conversion (or a GMAT to LSAT conversion), the tests aren't set up for a 1:1 score comparison.
If you already wrote one of these exams, you can't expect the same score on the other without putting in the same amount of work — or more, depending on where your skills and experience are in each area.
Here's a breakdown of the LSAT vs. GMAT in terms of exam format:
GMAT Exam Format
LSAT Exam Format
Sections
Four sections
Four sections
Topics
Analytical Writing Assessment
Integrated Reasoning
Quantitative Reasoning
Verbal Reasoning
Analytical Reasoning
Logical Reasoning
Reading Comprehension
Experimental Section
Total Questions
90 multiple choice questions and one essay question
99-102 multiple choice questions and one writing sample
Duration
3.5 hours
2.5 hours
Breaks
Two (up to eight minutes)
One (ten minute break)
Which One Is Harder?
Now that we've compared the details of the LSAT vs. GMAT, let's get to the real question: Which one is harder?
The answer to this question is undoubtedly personal, depending on your natural strengths and educational background.
The LSAT is intended to test skills that you will need in law school. This means you will be required to read, reason, and write impeccably.
Questions will present complex logic puzzles and scenarios, to which you will be required to respond in an articulate, cogent, and evidence-based manner. Your ability to read carefully and express yourself clearly will directly impact your final score.
Can You Do Math?
Notably absent on the LSAT is math. While you need excellent logic, reasoning, and analysis skills to do well on both of these difficult tests, you will need to be skilled in math for the GMAT.
The GMAT is intended to measure your aptitude in verbal skills, mathematics, analytics, and writing. Some of these sections overlap with skills you need for the LSAT, but the GMAT Quantitative Reasoning section is pure math, no calculator allowed.
On the GMAT, you will need to analyze data and review information that is presented in a variety of ways. In addition to identifying correlation, causation, dichotomies, and other inherent traits, you will need to provide thoughtful analysis and draw reasonable conclusions from data sets.
Reflecting on your test-taking strengths may be helpful in determining which test would be best suited for you.
All of that said, most people think the LSAT is harder simply because it is unlike most standard tests. With its heavy focus on logic puzzles, the LSAT can almost feel like an IQ test if you go in unprepared.
But that doesn't mean the LSAT difficulty should deter you. If a career in law is what you're after, there are plenty of resources to help you succeed.
If you're ready to see for yourself how hard the material is, check out these top recommended LSAT prep courses.
FAQs
Here are some answers to frequently asked questions about LSAT vs. GMAT
Do Law Schools Accept GMAT?
Law school admissions boards will only consider LSAT scores for acceptance into their institution. Generally speaking, the GMAT is not accepted to get into law school. Currently, only two schools – Cornell and Penn – accept the GMAT for admission, while UChicago, Berkley and Georgia accept it if you are already enrolled in another grad program.
How People Do on LSAT vs GMAT?
The GMAT and LSAT have different numbers of questions and are structured differently, making any comparison between the scoring of GMAT and LSAT an inadequate one. In other words, there is no straightforward ratio with which to compare these two tests. Neither test is pass/fail. There are only averaged scores. Taking those into account, here's the best comparison:
GMAT: 27% get a "good" score of over 650 and 12% get over 700. The mean score of the GMAT is 564.84.
LSAT: 80th percentile for the LSAT is a score in the 160s. Only about 0.1% of people who take the LSAT each year get a 180 (the highest score possible).
Is the Bar Harder Than the LSAT?
The LSAT gets you into law school. Then, once you've finished law school, you have to take the bar exam to become a lawyer. The difficulty of the bar exam varies by state. Some bar test-takers say the difficulty of that bar exam exceeded the difficulty of the LSAT. Others say it was easier.
What Percentile Is 164 on LSAT?
Interpreting your LSAT score, you may wish to know that a 164 means that you are in the 87.4 percentile for the 2019–2020 testing year. Learn about what the LSAT percentile means for your performance and how it impacts your chances of getting into law school.